A vibrant​ chamber orchestra showcasing the professional talents of players from the Illawarra and Shoalhaven Region. ​
12-19 NOVEMBER 2023
BODY & SOUL
Marrying music, vision and spoken word of Australian artists and presented in collaboration with Shoalhaven Regional Gallery's "Death+Love/Art" exhibition, this performance includes a new work by Wollongong-born saxophonist Nicholas Russoniello and works by Ross Edwards, alongside visual works curated by Max Dingle OAM..
17-14 MARCH 2024
IDENTITY
"Identity" finds Steel City Strings traversing continents, centuries and cultures as it examines what it is to be human. Criss-crossing musical worlds, the program includes music by Gerald Finzi, Granville Bantock, Franz Schreker and acclaimed Yorta Yorta soprano and composer Deborah Cheetham-Fraillon.
16-23 JUNE 2024
REEL MUSIC
The string orchestra is one of the most expressive mediums – often used  by film makers to evoke the whole gamut of human emotions from joy and exuberance to melancholy and loss. "REEL MUSIC" navigates a trail through cinematic classics such as Psycho, Cinema Paradiso, Riptide, and much much more. A commissioned work from Lauren Mercovich creates a soundscape for the imagination.
2024 Season Tickets & Program Now Available
Steel City Strings is proud to announce it's 2024 season. Our first series, around the theme of identity explores the common grounds of human experience in music that is rich in ideas and emotions. 
 The second series "Reel Music" presents music for strings in film. Our audiences will be thrilled and delighted by cinematic soundscapes from Psycho, Cinema Paradiso and Pirates of the Carribean.
In the final series of 2024, Steel City Strings will perform with Con Voci and the Wollcon Chamber Choir in a program of works by Faure and a new commission from Sally Whitwell.
WHERE SCS PERFORMS
​​Steel City Strings, Illawarra's Chamber Orchestra, performs a wide variety of works from classic to popular, often collaborating with talented Illawarra soloists and performers.
In 2023 and 2024, Steel City Strings full ensemble performs at:
•Wollongong Art Gallery
•Wollongong Town Hall
•Bowral Memorial Hall
•Burrawang School of Arts
•Nowra School of Arts.
Shellharbour Civic Center and St Francis Xavier Catholic Cathedral Wollongong.
Performances may be at other venues in Wollongong, Shellharbour, Kiama, Berry, Nowra and the Southern Highlands, for concerts featuring smaller ensembles.
Click on the event listings above to see all the information, including the ticket link for each concert.
OTHER MUSICAL EVENTS IN THE REGION
​​Steel City Strings encourages and supports local musicians organising external concerts in the community.
WOLLONGONG CONSERVATORIUM
The Wollongong Conservatorium, a key partner to SCS, offers a wide range of events from local classical musicians. Click on the WOLLCON poster below to be directed to more information about these events.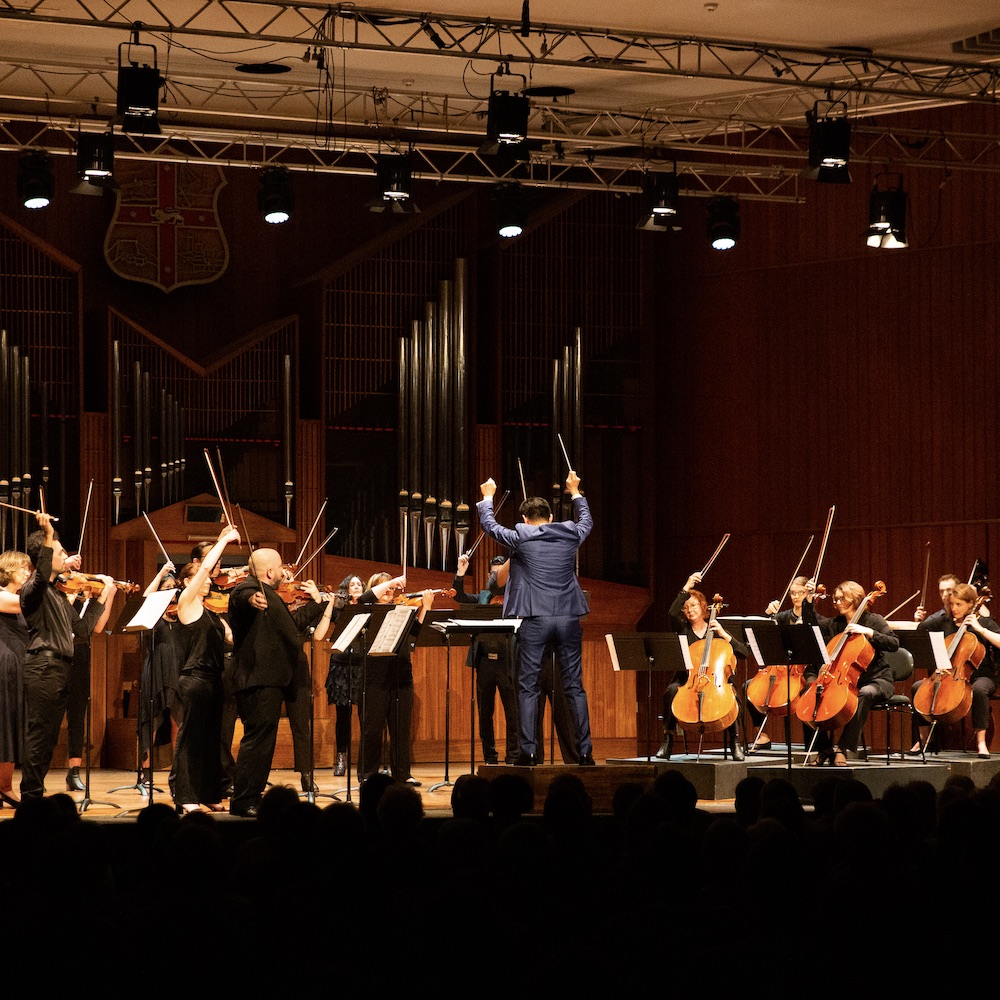 Experience the Energy
Steel City Strings provides an important platform:
for local musicians to come together to play exciting music
to inspire young local string players
to feature local soloists
to support and showcase talented Australian composers
Concerts have featured compositions by Australian composers Carr-Boyd, Sculthorpe, Ford and Grainger as well as local composers John Spence, Michael Barkl and Adrian Whitehall. The orchestra also features the talents of exceptional local solo musicians.
Mentoring and developing young local players through coaching and providing opportunities to play and perform with the orchestra is an integral part of our strategy for developing the orchestra and its members.
Kyle Little
Artistic Director/Concert Master
Karella Mitchell
Principal Cello
Jacob Antonio
Principal Violin
Ethan Ireland
Principal Double Bass
Adrian Davis
Principal Viola
Steel City Strings is thrilled to announce an exciting 2024 Season Program. A new year will bring 3 carefully curated programs to delight all concert goers who love string music. Program 1 - "Identity" tells the story of human nature and the amazing ability within all...
read more