Meet Steel City Strings
Steel City Strings is a Wollongong-based chamber orchestra of musicians from the Illawarra, Shoalhaven, and Southern Highlands of NSW regions. Since its inception in early 2015 as a not-for-profit incorporated association the orchestra has delighted music lovers in townships across our broader region.
Led by Artistic Director Kyle Little, the orchestra provides performing and professional development opportunities for musicians in the South Coast and Southern Highlands. These opportunities can be as orchestra members, as soloists and as composers.
Both 2022 and 2023 were significant years for the orchestra coming out of Covid lockdowns. The 2022 program included soloists such as William Barton and Emily Sun, as well as the Women in Steel concert featuring percussionist Claire Edwardes playing Steeling Fire a Concerto for Percussion and String Orchestra by Natalie Williams commissioned by us with development funding from Create NSW.
In 2023, Steel City Strings has once again been nominated for an APRA Art Music Award for Excellence in a Regional Area.
An invitation from the Australian String Quartet, from Adelaide, to perform together in our Collections concert here in Wollongong on July 25 at the Wollongong Art Gallery makes an exciting addition to our season. It's also an important learning experience for our SCS Quartet musicians, Kyle Little, Monique Ziegelaar, Adrian Davis and Karella Mitchell. Buy tickets on our Events page.
The orchestra provides an important platform:
for local musicians to come together to play exciting music
to inspire young local string players
to feature local soloists
to support and showcase talented Australian composers
Our Music
Steel City Strings is a chamber orchestra with a broad range of styles and genres encompassing baroque, classical, romantic and contemporary repertoire – championing new Australian art music. The orchestra is well known for its collaborations with local ensembles such as con voci Chamber Choir and the South Coast Big Band. Steel City Strings usually performs nine concerts per year in three programs.
Read more about chamber music here.
Governance
New Steel City Strings Inc. is a volunteer-run not-for-profit charity, governed by a volunteer Board of Directors. Day-to-day management is by a volunteer Management Committee.
The orchestra is further supported by community volunteers who offer their time at events to help with box office, stage and venue management, and audience comfort and safety. We do rely heavily on this volunteer support, and welcome new volunteers. If you would like to register as a volunteer with Steel City Strings, please contact us by phone (0467 869 478) or email [email protected].
Steel City Strings musicians are the heart of the organisation and, as artist-residents, seek to delight, educate, and nurture the community through the transformative power of live music performed with professionalism and artistic excellence.
Steel City Strings Annual Report 2022
Patron
Andrew Ford OAM
Board of Directors
Chairman | Adam Zarth, Executive Officer of Business Illawarra
Secretary | James Welch – Access Law Group
Treasurer  | Ben Twyford – Chartered Accountant
Kyle Little, Artistic Director Steel City Strings
Anthony Body, Regional Director- Illawarra Shoalhaven, Department of Regional NSW
Leroy Soeterboek, Marketing Consultant, Beans Marketing, Wollongong
Melissa Thompson, Deputy Director – Department of Regional NSW
Staff
Lyndall Fowler, Executive Officer
Operations Team
Kyle Little, Adrian Davis, Vivien Twyford, Karella Mitchell, David Vance, Lyndall Fowler, Yve Repin OAM
Ambassador
Tony Williams – Film-maker ("The Passion of Music")
Kyle Little
Artistic Director/Concert Master
Kyle Little is the Artistic Director and Concert Master of Steel City Strings. Since 2014, He has worked with the Illawarra and Southern Highlands community to promote local music in the area. Kyle completed his Bachelor of Music in violin performance from the University of Dalhousie in 2006. He graduated from the University of Wollongong in 2010 with a Graduate Diploma in Education and in 2013 with a Masters in Education – Research.
When Kyle is not playing the violin, he is working as an instrumental ensemble director and classroom music teacher at Campbelltown High School of Performing Arts. Kyle continues to work with his school community to develop new and innovative programs for years 7-12 students. He has been awarded for his work in education, receiving the NSW ACEL Mary Armstrong Award for educational leadership in 2017.
In addition to his work in public education, Kyle is currently teaching violin privately at the Wollongong Conservatorium of Music and in 2019, taught the Music Methods course at the University of Wollongong.
Kyle has been highly involved in music across New South Wales. He was the head string tutor for the Southern Stars 2011 – 2013 season, member of the Vatiliotis String Quartet, former concertmaster of the Wollongong Community Orchestra, and former member of the Wollongong Symphony Orchestra. Additionally, he has performed with the Sydney Lyric Orchestra and the Sydney Concert Orchestra.
Kyle continues to advocate for the importance of quality music education in schools, and works to provide students with meaningful performance opportunities.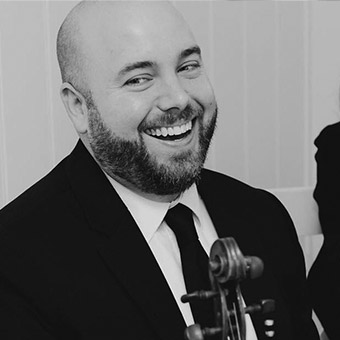 Luke Spicer first conducted Steel City Strings in its March 2016 concerts at Kiama Pavilion and Wollongong Art Gallery. Luke was appointed Resident Conductor of Steel City Strings for its 2017 season of six concerts. Growing up in Picton NSW, Luke began musical studies at the Wollongong and Sydney Conservatoriums during his secondary school years, and after completing tertiary studies at the Sydney Conservatorium, Luke is now making his mark as a symphonic and operatic conductor.
Graduating with a Masters of Conducting from the Sydney Conservatorium, he has furthered his studies in Freiburg, and Manchester; and attended the Fondazione Musicale Chigiana, Siena, working under Maestro Gianluigi Gelmetti. Luke was also a participant in the Symphony Services International Conductor Development Program during 2016, conducting the Tasmanian Symphony Orchestra, Adelaide Symhony Orchestra, and Auckland Philharmonia Orchestra.
In 2014 he was appointed Principal Conductor of the Sydney University Symphony Orchestra, and has been the assistant conductor of the Willoughby Symphony Orchestra for several years. Luke made his operatic debut in 2015 with Gluck's Orfeo ed Euridice, as part of the Spectrum Now Festival, with Silvia Colloca singing the principal role and Shannon Murphy Directing. Other recent Conducting engagements include Walton's Façade, Prokofiev's Peter and the Wolf, Mendelssohn's Elijah, Wagner's Wesendonck Lieder, and a sell-out production of Puccini's il Tabarro.
In February Luke joined Opera Australia as Music Director of the NSW schools tour, and has commenced the 2017 season with the Sydney University Symphony Orchestra.
Adrian Davis
Principal Viola 
Adrian Davis is an American violist who began his musical studies at the age of 8 in his public school's string program and has since had a diverse education in the United States and Australia. He has held teaching positions at the University of Alabama at Tuscaloosa, The University of Colorado Boulder, The Lovett School, and most recently the Wollongong Conservatorium of Music.
Adrian has a Bachelor of Music from the University of Alabama at Tuscaloosa and a Masters Degree from the University of Colorado Boulder. He has participated in many summer festivals such as The Sewanee Summer Music Festival, Hot Springs Music Festival, and Gateways Music Festival. His principal teachers have been Dr. Daniel Sweaney, Hillary Herndon, Erika Eckert, and Geraldine Walther.
Ethan Ireland
Principal Double Bass
Ethan Ireland began playing Double Bass at the age of 12. He went on to study at the Conservatorium of Music in Sydney, and graduated with a Bachelor of Music (Performance) in 2016. He has been a member of the Sydney Youth Orchestra, has attended the Australian Youth Orchestra's National Music Camp, and took part in the 2016 Hennessy Concert Series with Stars of Opera Australia at the Hanoi Opera House in Vietnam.
Ethan has performed as a soloist with Steel City Strings, and is a regular member of the Willoughby Symphony Orchestra, Steel City Strings, and the Canberra Symphony Orchestra. In addition to performing with many other groups and ensembles around NSW, Ethan also teaches some of the next generation of young Double Bass players in the Sydney, Wollongong, and Southern Highlands areas.
Jacob first began to play music when he was 4 years old, learning to play the piano from a lady who lived down the street. Once he started learning to play the violin at age 9 however, he realised that the violin was his preferred instrument.
From then on he pursued this passion, playing in community youth orchestras and major music camps before leaving school and moving on to study a Bachelor of Music (Music Education) at the Sydney Conservatorium of Music. Since completing this degree in 2011, Jacob has been teaching strings and running string programs and ensembles at several different primary and high schools in the Shoalhaven and Southern Highlands.
Music is not Jacob's only passion however. He has also been a pilot since 2012 and is a member of the Australian Aerobatic Club and regularly competes in nation wide aerobatic competitions.
Karella Mitchell began the violin at 18 months of age when she dragged her mother's violin off the dining room table to play. Karella moved to cello, learning with Dorothy Sumner, when she was 7 years old after hearing Jacqueline du Pre playing on the radio. She just knew cello was her instrument. Completing a Bachelor of Music at the Conservatorium of Sydney studying with Georg Pedersen, she went on to graduate with Honours from the Conservatorium of Newcastle where she was the cellist for the Conservatorium String quartet.
Karella also holds a post-graduate Diploma in Music Performance from the Sydney Conservatorium of Music. Having studied with esteemed teachers as George Pedersen, Anthea Scott-Mitchell, Dorothy Sumner and Tim Blomfield she appreciated, assimilated and developed both as a cellist and teacher from each experience. Karella has had the privilege of playing in orchestras conducted by Richard Gill, John Harding, Steven Hillinger, Professor Wolfram Christ, Simon Kenway, Denis de Coteau and Larry Rachliff.
COLLECTIONS: ASQ X SCS
6.00pm Tuesday July 25 2023
Wollongong Art Gallery
An invitation from the Australian String Quartet, from Adelaide, to perform with Steel City Strings in our Collections concert in Wollongong makes an exciting new addition to our season.
It's also an important learning experience for our SCS Quartet musicians, Kyle Little, Monique Ziegelaar, Adrian Davies and Karella Mitchell.
POPULAR CELLO FAVOURITES
6.00 pm Saturday 23rd September 2023
Venues - TBC
Our cello section, under the leadership of Karella Mitchell, plays a selection of popular cello favourites.
Tickets will go on sale in July 2023.